Mechanics Hall Summer Music Festival 2018
Program Notes, Translations, Extended Biographies
Click Listed Concert to View
Worcester T&G Article About the Festival
2018 Festival Supporters

---

Wednesday August 8 noon – COSMIC DUALITIES
Biographies
Olga Rogach (piano) received a Master of Music degree from Russia's famed St. Petersburg Conservatory. After graduation she was appointed to the St. Petersburg Music College Faculty and became a featured pianist for the Literary Association of St. Petersburg and the All-Russian Theatrical Society. She emigrated to the U.S. in 1991. A leading regional piano teacher, Ms. Rogach has a private piano studio and is a private piano instructor at WPI. Many of her students have been prize and scholarship winners in international and local competitions.
Ms. Rogach performs extensively in New England, and is acclaimed for her recitals and collaborations with instrumentalists and vocalists. In addition Ms. Rogach is a Music Director of the First Parish Unitarian Universalist church in Northborough, pianist for Master Singers of Worcester, and an official pianist and a board member of the Greater Worcester Opera Company.
William Ness (organ & piano) retired from First Baptist Church as Minister of Music and Arts Emeritus in 2015, having served there for over fourteen years. Organ teaching is now a big part of his life teaching at Pakachoag Community Music School and privately. Being a church musician for over fifty years he has served congregations in Iowa, Michigan, Massachusetts, Tennessee, Connecticut and now New Hampshire. As a recitalist he has performed locally in many churches in Worcester County as soloist and collaborative artist. He is currently Guest Musician at The First Church, UCC, Nashua, NH.
Will Sherwood (organ & piano) is the Artistic Director for the Mechanics Hall Worcester Organ Concert Series and Principal Organist at Mechanics Hall. He has been Director of Music & Organist at First Unitarian for almost 35 years, and is past Dean of Worcester AGO. He has appeared as guest artist with the Boston Pops, and on concert tours in Europe and the U.S. For thirty years, he was a Sr. Engineering Manager at Intel and Digital (DEC). Since corporate retirement, he is CTO & Owner of Sherwood Hosting, providing graphic & web/database design (including this program book), web hosting, and commercial photography.
Born in 1971, composer/pianist/organist LEONARDO CIAMPA is acknowledged as a musician of supreme gifts and extraordinary versatility.
Youtube of world premiere of Worcester Processional by Cimapa in 2017 at Mechanics Hall
Ciampa is the founding director of the Arts MetroWest (arts-metrowest.com) (since 2012) and Honorary Music Director (Maestro di Cappella Onorario) of the Basilica di Sant'Ubaldo in Gubbio, Italy (since 2015). Till recently he was artistic director of organ concerts at MIT (2009-2016).
As an organ recitalist, Ciampa has made a dozen European tours encompassing Italy, Austria, Germany, and Switzerland. He is particularly admired in Italy, where he has played in numerous international festivals (Festival Perosiano, Festival Biellese, Organi Storici della Valsesia, Le Voci della Città, Festival Organistico Lauretano, Reate Festival, etc.).
Ciampa's compositions include Suite Siciliana, Op. 145 (for two violins, piano and orchestra), commissioned by the Pro Arte Chamber Orchestra of Boston to open their 25th anniversary season at Harvard's Sanders Theatre; The Annunciation, Op. 203 (cantata for chorus, soloists, and strings); the Kresge Organ Symphony, commissioned by MIT and premiered in Kresge Auditorium; a piano quintet (premiered by the Lavazza Chamber Ensemble); and Missa Pamphyliana, premiered at the Basilica di Sant'Ubaldo in Gubbio by the Cantores Beati Ubaldi (Renzo Menichetti, conductor).
As a pianist, Ciampa is particularly admired for his interpretations of Chopin, whose 200th birthday he commemorated in 2010 with six recitals at First Church in Boston.
An avid writer, Ciampa has written several books, including The Twilight of Belcanto, Don Lorenzo Perosi (the first English-language biography of that composer), and, most recently, Gigli (the first book on the great tenor in English in 56 years).
Scott Daugherty (trumpet) is a passionate performing musician and educator. He has performed several engagements at Carnegie Hall in New York City, both as a chamber musician and in Orchestras. He performed for a time on Broadway. He has premiered a number of seminal works of our modern time, including the U.S. Premiere of Jennifer Higdon's Concerto for Orchestra in performance at Carnegie Hall and Stories for Our Time, a Trumpet and Piano Sonata by Dr. Faye-Ellen Silverman of the Juilliard School in New York City.
Scott's primary teachers include Vincent Penzarella, Former Principal Trumpet of the Baltimore Symphony, North Carolina Symphony, New York City Ballet, New York City Opera and Metropolitan Opera, as well as Former 2nd Trumpet of the New York Philharmonic — Eric Berlin, Soloist with Empire Brass & Principal Trumpet of the Albany Symphony Orchestra and Boston Philharmonic — Kevin Cobb, of the American Brass Quintet and Teacher of Trumpet at the Juilliard School . In addition, he has studied with Raymond Riccomini, 2nd Trumpet of the Metropolitan Opera Orchestra and acting Associate Principal Trumpet of the San Francisco Symphony — Tom Smith of the New York Philharmonic. Scott has also studied with Frits Damrow, Former Principal Trumpet of the Concertgebouw Orchestra Amsterdam — Timur Martynov, Principal Solo Trumpet of the Mariinsky Theatre Orchestra St. Petersburg — and has been coached by Alan Baer, Principal Tuba of the New York Philharmonic.
Scott is currently co-producing an international recital tour with with the trio ASI, including his wife Jung-Yi Daugherty, a critically-acclaimed, award-winning flutist and Ilya Kazantev, Pianist with the Hermitage Trio. When not performing and teaching, Scott enjoys photography, spending time with his wife and getting licked in the face by his dog, Daisy.
Bruce Hopkins (trumpet) is the Principal Trumpet and Personnel Manager of the New England Symphony Orchestra and has performed as soloist in England, Germany, Scotland and the US. He has been the Director of the Assumption College Band (Worcester, MA) since 1987 as well as Trumpet Instructor at the College of the Holy Cross (Worcester, MA) and has conducted master classes worldwide. He is also Director of Music Performance Service, contracting and coordinating hundreds of performances each year.
Patrick Chatham has been playing with the Worcester Youth Symphony Orchestra for three years. For the last two years he has been principal cellist with the orchestra and has played with the Worcester Youth Honors String Quartet and the Worcester Youth Baroque Orchestra. He studies private lessons with Betsy Bronstein at the Worcester Academy of Music. Patrick as spent one year as Young Artist in Residence at the Unitarian Church of Worcester. He has also attended the Global String Intensive Program at Berklee College of Music two years ago and this past June. In his spare time Patrick preforms at private functions, including weddings and parties.
Jolina McConville has been playing violin for eleven years and and is going into her seventh year of playing with the Worcester Youth Symphony Orchestra. She has spent four years as the principal second of the symphony, and first chair and principal second in both the Worcester Youth Honors Quartet and Baroque Orchestra. Jolina is a student conductor, taught by Jack Corbett of the Worcester Youth Orchestras, and has conducted the WY Philharmonic Orchestra in concert several years in a row. She studies violin privately with Peter Hughes and participated in the Global Strings Intensive Program at Berklee this past June. She plays at many hired events and functions.
Lauren Girouard is a rising senior at Northbridge High School and has been playing percussion for seven years. She currently studies under Barbara Paquette, and has gained insight from percussionists such as Professor Michael Rosen at Oberlin College and Tim Genis, Timpanist of the Boston Symphony Orchestra. At Northbridge, she serves as a leader in the concert band, jazz band, and marching band. Outside of school, Lauren is the Timpanist of the Worcester Youth Symphony Orchestra, and has participated in the Central Massachusetts Orchestra, Central Massachusetts Concert Band, All-Massachusetts Symphonic Band, and most recently, she served as the Principal Percussionist of the All-Massachusetts Orchestra. In the future, Lauren wishes to pursue a degree in percussion performance and become a member of a professional symphony orchestra.
Alesia Tringale (soprano) has enjoyed an active and versatile solo and ensemble singing career over the years performing with Opera Worcester, the chorus of Worcester Polytech, the Salisbury Singers, Worcester State University, Boston University Choral Society, Nashway Philharmonic, Claflin Hill Symphony Orchestra and Worcester chapter of the AGO and in chamber music with "I Soloisti Simpatici" and most recently as co-creator, artistic director and soprano soloist of the chamber ensemble "Seele Musicale". She has also been Soprano soloist and section leader at the First Unitarian Church of Worcester for over 20 years. A native of Winchester, Massachusetts, Ms. Tringale spends her days as Director of Software engineering at Dell EMC Corporation in Hopkinton. She took her degree in Electrical and Computer Engineering from Carnegie-Mellon University and Masters of Systems Engineering from Worcester Polytech.
Jerry Bellows (recorder) is a founding member of the Worcester Hills Recorder Society and performs frequently with the Seele Musicale Chamber Ensemble. His recorder studies include master classes with Pat Peterson, Dan Laurin, Saskia Coolen, and Mathias Maute at the Amherst Early Music Festival. He worked on the staff of the Early Music Shop of New England for six years and currently teaches recorder for the Joy of Music Program. He can also be found performing the the Carter Street Band and with the Berlin Country Orchestra.
Madeline Browning, (recorder), holds a Bachelor of Music Degree from the University of the Pacific, Stockton, CA, and teacher certification from St. Mary's College, Moraga, CA. She has been a freelance musician (flute, piccolo and recorder) in the Worcester area for several years and is an Artist in Residence at the First Unitarian Church in Worcester. In addition to Seele Musicale, she performs regularly with FloraMusic Recorder Quartet and MetroWest Woodwind Quintet. Chamber music is Madeline's favorite music to play.
Program Notes
FANFARA DI SATURNO – World Premiere – Saturn's Fanfare, notes from the composer Leonardo Ciampa
Saturn was the Roman god of time. (His Greek equivalent was Cronus.) The English word "Saturday" is named after Saturn. In English we also have the adjective "saturnine," which means means "dark, mysterious, gloomy." I wondered how to compose a "gloomy" fanfare. I decided to begin in the locrian mode, which is the "darkest" mode. Saturn was also the god of liberation. Thus, I broke out of the gloom and ended in the "brightest" mode, the lydian.
HANDEL
Handel had hoped to make a career as an opera composer in London, but it was not to be. In 1737 the composer suffered a debilitating stroke. When he was able to resume work, he turned to the oratorio and infused that old form with vitality and new dramatic possibilities. His oratorio Messiah (1742) remains his most famous, but through the decade of the 1740s he produced a steady procession of other great oratorios, including Solomon which was written in the spring of 1748. Its three acts tell of various incidents in Solomon's life, the third being a depiction based on the Biblical account (1 Kings 10) of the visit of the Ethiopian ruler Queen of Sheba to his court. The three-minute Sinfonia that introduces the third Act has become famous under the title "Arrival of the Queen of Sheba", a title that did not originate with Handel. In the oratorio, this music functions simply as an overture–its energy and good spirits provide the lead-in for the Queen of Sheba's entrance and first aria. On its own, however, the Sinfonia enjoys a well-deserved life in the concert hall, where it has become a popular opening work. Handel alternates two themes: a bustling motif built on a steady patter of sixteenth-notes and a slightly syncopated second theme. So infectious is the energetic main theme that it echoes long after the music itself has ended. This vibrant music does brilliantly what all overtures ought to do: arouse our expectations for more great music to follow–whether it is the rest of Handel's oratorio or something entirely different. We hear tonight a unique arrangement that showcases the contrast between two pianos and the organ.
BACH
The Prelude that opens the first collection of Bach's Well Tempered Clavier is the first step in a harmonic journey that was relatively new at the time. Charles Gounod, whose arrangement of that C-major Prelude, entitled "Ave Maria", is remembered largely for his operas, was also active in the field of sacred music. While he contemplated entering the priesthood, he decided against a religious vocation, but maintained a deep sense of faith and a somewhat mystical outlook throughout his life. His transformation of Bach's piece written 137 years earlier, originated as an improvised instrumental piece titled "Méditation surle 1er Prélude de Piano de S. Bach" that his future father-in-law Pierre-Joseph-Guillaume Zimmermann transcribed, for piano and violin or cello solo, with an accompaniment of organ (harmonium), published in 1853. Finally Gounod's blockbuster version appeared in 1859 under the name "Ave Maria," using the familiar prayer uttered in the Gospel of Luke by the Angel Gabriel. Will Sherwood has taken the basic Bach composition and original Gounod melody, and re-applied the instrumentation offered in 1853 (which added organ, violin, cello), with a modern twist: an intertwining of violin and cello duet accompanied by a second piano using somewhat of a new-age style.
SOUSA
John Philip Sousa hardly needs an introduction. The "Norman Rockwell of American music" is recognized by most Americans. Sousa is to the march as Strauss is to the waltz. He was born in Washington, D.C., the son of a Spanish trombonist in the Marine Band. Legend has it that his father's name originally was Antonio So, and that he added the "usa" to the name as a tribute to his adopted country. Sousa denies this, but if this story is not true, as musicologist Wilfrid Mellers says, "…it is truer than fact." He wrote a dozen operettas, six full-length operas, and over 100 marches, earning the title of "March King". He enlisted in the United States Marine Corps at an early age and went on to become the conductor of the President's Own Marine Band at age 26. In 1892 he formed "Sousa and his Band", which toured the United States (including Worcester's Mechanics Hall) to great acclaim. Not only was Sousa's band hugely popular, but it also exposed audiences all over the world to the latest music, bringing excerpts of Wagner's Parsifal to New York a decade before the Metropolitan Opera staged it, and introducing ragtime to Europe, helping to spark many a composer's interest in American music.
CONFREY
"Where Confrey got 'Zez' for his first name is a puzzle –it should have been 'Zip' for that quality distinguishes this artist in syncopation, technique, 'raggy' rhythms, and modern dance idioms. Confrey had a brilliant career in classical music, but immediate success was offered him through his almost uncanny powers in modern dance composing and he accepted the lure. Confrey earned the title of 'the People's Paderewski' and rightly so, for in person or through his sparkling records, he electrifies his audiences." – Brunswick Records Catalogue 1922
Edward Elzear "Zez" Confrey was a musical phenomenon. Precocious, immensely talented, with an absolutely natural ability at the keyboard, he became a major celebrity after publishing in 1921 his evocative and rhythmicaIly intricate masterpiece, "Kitten on the Keys".
During World War I, Zez Confrey joined the Navy and performed in a touring musical revue entitled, "Leave It To Sailors". Confrey, who played and acted on stage was joined by a violinist from Waukegan, IL. That accomplished violinist–Jack Benny–eventually became one of America's most beloved comedians and television personalities. After the war, Confrey was engaged to record novelty piano works and arrangements for the QRS Piano Roll Company.
In 1921 Jack Mills (the founder of what today is known as Belwin Mills Publishing Corporation) offered Confrey a publishing contract that yielded "Kitten on the Keys", "Dizzy Fingers", and many other piano successes. A tongue-twister for the fingers, "Dizzy Fingers" is a "speed demon" ingenious étude written for piano virtuosi that envelopes memorable melodic inventiveness, stereo arpeggios, and cascading and swirling rhythms that immediately win the heart of the listener.
DEMAREST
American organist and composer Clifford Demarest was born and educated in New Jersey, and was the organist at Church of the Messiah, New York City. Demarest is best known for his music for organ and piano duet. The combination of organ and piano are still an important part of musical life in some American churches, since a great deal of them have pianos and organs in the sanctuary, used for concerts and during services.
Demarest's most popular work is the Fantaisie (or Fantasy) for piano and organ written in 1917 for a concert celebrating his inauguration as President of the American Guild of Organists, a position he held until 1922.
Fantaisie is in a very clear A-B-A form, and the majestic opening states the theme on the organ accompanied by quasi-Tchaikovsky piano-concerto chords. This theme is developed in a brisk allegro, before abruptly giving way to a lilting pastoral middle section. The opening allegro returns, leading to a coda which brings the work to a grand close. We offer tonight's performance in an augmented Double-Concerto arrangement, which highlights the beauty of each of our pianos.

Thursday August 9 7PM – IMPERIO IN STEREO
IMPERIO IN STEREO BIO
The father-son piano duo, Imperio in Stereo, formally premiered in 2012 at the Steinway Showcase Room in Natick, MA. They have since continued to collaborate in an extraordinary musical relationship, including a performance of Chopin's First Piano Concerto in 2014 with Roy as soloist and Kristjon conducting the Nashaway Philharmonic Chamber Ensemble. In addition to numerous piano and organ duets, they have presented duo-piano recitals at Vernon SDA Church in Vernon, VT, Thayer Performing Arts Center in South Lancaster, MA, and First Unitarian Church in Worcester, MA. Their music collaboration is the delight of all who hear.
ROY IMPERIO BIO
Philippine-born pianist Roy Imperio has concertized as a soloist, collaborative pianist, accompanist, and chamber musician in the United States, Canada, Mexico, England, France, Russia, Ukraine, Hong Kong and throughout the Philippines. The Worcester Telegram portrayed him in the performance of the Grieg Piano Concerto with the Thayer Symphony Orchestra upon winning its Concerto Competition in 1988 as "an artist with considerable technical ability and admirable poetic depth, playing with remarkable power, personality and boldness." Passionate about chamber music he co-founded ensembles such as the Windhammer Chamber Players, and the Bulfinch Players, and continues to perform in New England with Trio Orione, the Nashaway Trio, and Imperio in Stereo.
In 2001, he made his premiere CD album for flute, guitar and piano with the Bulfinch Players, "Holiday Music in New England" and in 2010 his first piano solo album, "Music of Frederic Chopin: a Life of Passion." His most recent CDs, "Seleksiyon" featuring piano arrangements of Filipino folk tunes by Augusto Espino and "Music from Four Continents" with cellist, Ning Tien were released in 2017.
He has served as music professor at Atlantic Union College, as collaborative pianist at Boston Conservatory at Berklee, and as Director of Music at Faith United Parish in Fitchburg. Currently he teaches piano at the Thayer Performing Arts Center, 77 Arts Academy in So. Acton, and the Fitchburg State University Community Music Lesson Program.
KRISTJON IMPERIO BIO
Kristjon Imperio is a highly sought-after pianist, organist, and clinician throughout New England. As a soloist, he has performed piano/harpsichord concerti by Bach, Mozart, Beethoven, Grieg, Tchaikovsky, and Brahms with orchestras throughout the United States. Being a passionate chamber musician, he is founding member of the New England Piano Trio, Seele Musicale Chamber Ensemble, and Imperio in Stereo.
Kristjon founded the Bolton Philharmonic Society, Inc. in 2008 and served as artistic director of the organization's four community choral and instrumental ensembles until his retirement in 2016. During his tenure with the Philharmonic, he conducted over thirty performances of major works by Vivaldi, Haydn, Mozart, Chopin, Dvorak, Vierne, Durufle, Vaughan Williams, Hindemith, Barber, and Rutter.
Kristjon currently serves as minister of music for the First Congregational Church of West Boylston, organist for the Atlantic Union College Church of Seventh-day Adventists, and is on the faculty at Anna Maria College. He also collaborates with A Worcester Schubertiade as accompanist and masterclass clinician. In September 2018, he will begin serving as program director for Pakachoag Music School of Greater Worcester.
IMPERIO Program notes
Taken from the orchestral suite, The Planets, Op. 32 (composed in 1914-1916), English composer Gustav Holst (1874-1934) originally sketched the work for two pianos, due to a need to compensate for the neuritis in his right arm. His two friends Nora Day, and Vally Lasker had agreed to play for him the two-piano arrangement as he dictated the details of the orchestral score to them. This they wrote down themselves on the two-piano score, and used as a guide when it was time to create the full orchestral score. One of the massive movements, Jupiter, the Bringer of Jollity according to Holst "brings jollity in the ordinary sense, and also the more ceremonial type of rejoicing associated with religions or national festivities." In 1921 he adapted the melody of the central section to fit the meter of a poem beginning "I Vow to Thee My Country" and set it as a unison song with orchestra. As ahymn tune it has the titleThaxted after thetown in Essex where Holst lived for many years. The song is used as the theme song for the Rugby World Cup and appears in most television coverage and before matches.
British composer, Gerald Finzi (1901-1956) was described as "very shy, but full of poetry" by his teacher Ernest Farrar, a former pupil of Stanford. In 1920 he started movements for piano believed to be intended for a piano concerto.This was never finished or given a title, but after his death in 1956 his publisher gave two of the individual movements names and published them as the separate works Eclogue and Grand Fantasia and Toccata. Reworked by Finzi so that it could be played on its own, the Eclogue for piano and string orchestra, op.10 is based on an archaic form of poem that was originally meant to be a conversation between shepherds. A lover of country living and apple-growing, Finzi's music is fitly described here as mostly elegiac in tone, rich in texture, imbued with strength and eloquence.
It is not surprising that Johannes Brahms (1833-1897) as a supreme master of the variation form and his interest in earlier styles would come up with the Variations on a theme by Haydn, Op 56b. Although the theme is doubtfully Haydn's it is better known as an Austrian processional chorale in honor of St. Anthony of Padua, the "St. Anthony chorale." The work was composed for two pianos and at the same time scored for the better known orchestra version, with the earlier version premiered by Clara Schumann and Brahms at a private gathering in Bonn, Germany in 1873. This work is one of Brahms personal favorite compositions.The variations begin with a stately melody of the chorale in the unusual five measure phrase that undoubtedly attracted Brahms' attention. It then proceeds to eight variations beyond ornamentation but reimaginings in changes of tempo, textures, keys and rising of melodies based on the theme which can be lighthearted, passionate, or a graceful pastorale. The final statement of the theme ends with an explosive grand passacaglia- a variation within a set of variations.
What makes music funny? Leonard Bernstein suggested, "the first and simplest way that music can be amusing is by simply imitating nature. It's one of the oldest ways of making you laugh —by imitating things." In the Carnival of the Animals composed in 1886 by French composer, Camille Saint-Saens (1835-1921), one finds satire, parodies and whimsical humor as Saint-Saens describe certain animals and pianists (jokingly as one of the animal species). Wanting to be known only as a serious composer Saint-Saens did not want this work published until after his death but after doing so this piece became recognized as one of his more popular works. With the exception of the movement, The Swan, due to the prodding of his dear friend Franz Liszt and many others, this was performed as a solo piece and became an instant favorite. The grand zoological fantasy starts with the "Introduction and Royal March of the Lion" with fanfares and roaring piano glissandos. Next are the "Hens and Roosters" squawking and gawking followed by "Wild Asses: Swift Animals" depicted by frantic scales going up and down on the two pianos. Offenbach's can-can from his operetta, Orpheus in the Underworld is used ploddingly to describe "Tortoises." In the next piece, "The Elephant" Saint-Saens jokingly uses melodies from the scherzo in Mendelssohn's A Midsummer Night's Dream and from Berlioz's Dance of the Sylphs from Damnation of Faust to a slow, heavy and awkward waltz. Skipping from one piano to another comes the bouncing "Kangaroos" resting occasionally. Next comes rippling arpeggios and chromatic scales depicting fishes swimming gently filling the "Aquarium." In the "Personages with long Ears" the mules hee-haw back and forth at each other. This movement is speculated to compare music critics with braying donkeys, a sly jab to Saint-Saens detractors. In "The Cuckoo in the Depths of the Woods" the calling of the two descending notes of the cuckoo is heard amidst solemn piano chords. Immediately the rapid flute passages awakes us to "Aviary" with fluttering chromatic scales and light upper registers portraying birds in flight. "The Pianists" comes parading as part of the zoo animals practicing their Hanon Exercises. Saint-Saens in his biography by Brian Rees suggests the pianists "practicing Czerny-like exercises…. for a composer, piano players in the neighboring apartment are troublesome beasts." The next piece, "Fossils" include songs about death and old "fossils' in music: the composer's Danse macabre, Rossini's The Barber of Seville, and the French folk songs Au clair de la lune and Ah! vous dirai-je, maman (tune of Twinkle, twinkle little star). Gliding along elegantly, "The Swan" has touched many hearts for its monumental beautiful melody. The "Finale" concludes this menagerie as all the "animals" take their bows. The great pianist-composer, Franz Liszt called Saint-Saens as the greatest organist of his time and it is fitting to present this two piano version of the Carnival of the Animals with the organ, arranged and performed by William Ness based from Ekaterina Melnikova's organ transcription.
– Roy Imperio
Friday August 10 7PM – SEELE MUSICALE CHAMBER ENSEMBLE

Ensemble Overview
Seele Musicale Chamber Ensemble is a guild of passionate musicians, performing a wide range of repertoire with an emphasis on the nuances and emotions in the music performed. Now celebrating five years, it was the music of Bach, Handel and Vivaldi that brought local musicians together originally. Over the years, they have performed at the First Unitarian Church of Worcester, Tower Hill Botanic Garden, local libraries, the Lions Club, a homeless shelter, a yoga center. Earlier this year they appeared with acclaim at the Worcester Art Museum in a program entitled "Flights of Fancy" to accompany the museum's "Flora in Winter" exhibition, with music of Handel and Telemann.
SMCE has featured living composers to premiere several of their works. With close ties to the estate of the late composer Alan Hovhaness, they premiered the unpublished work Sextet for Recorder, Harpsichord and String Quartet. Additionally they have premiered vocal works by Frederic Sharaf, and piano works of David Stern. Bach's Brandenburg Concerto No. 5, was paired with a Concerto Capriccioso of living composer R.A. Moulds, which was commissioned 20 years ago and had never been played since.
Employing the common denominator between well known Baroque and modern composers, Seele personifies stories in music in colorful ways. In Pergolesi's Stabat Mater Dolorosa, Seele became the "grief" of Mother Mary, not merely "telling the story" of her grief. With the music of R.A. Moulds, the group became the country dance, and with Telemann, they added tambourine and vividly "danced" the Polish dance within the piece.
For the ensemble, Music is the magic—the musicians seek that infinite magic that connects the musical creations of composers present and past to the yearning ears of today's audience.
Individually, they are music teachers, engineers, music directors, writers, audio engineers, music students, orchestra members, but above all they connect with their musical spirits distilling the wonderment of music to grateful ears wherever they perform.
Visit us at www.SeeleMusicale.com
Program Notes & Translations
Vivaldi La Follia
La Follia, or Folia, literally meaning madness, folly, or empty-headedness, was described in a Spanish dictionary from 1610 as 'a noisy dance in which many people take part with instruments', and which is played so fast that 'they all seem to be out of their minds'. This musical phenomenon, which over the course of more than 300 years includes compositions by at least 150 composers, exists in two forms, as an early Spanish dance in fast triple time, and as the so-called 'later Follia', a simple fixed melody of sixteen bars in 3/4 time over a standard chord progression, bearing all the traits of an elegant sarabande. One could ask what the mystery is behind the appeal for the Follia? Perhaps it can be explained in it's perfect symmetry, satisfying the human's eternal pursuit for balance and harmony, or perhaps it simply that the Follia is a pleasant piece of music to listen to, crossing musical genres and equally at home in the country dance hall as the stately courts.- Kate Hearne
Albinoni Adagio in G Minor
The Adagio for organ and strings, attributed to Albinoni, has become one of the most iconic of musical backdrops,
utilized in innumerable films, television programs and video games. Originally published in 1958 by the Italian musicologist Remzo Giazotto (1910-1988), the surging melody is remarkably impassioned for all its stately Baroque niceties. Giazotto, the biographer of both Albinoni and Vivaldi, claimed he completed the piece from an unfinished score in the Saxon State Library in Dresden. (When Dresden was bombed by Allied planes during World War II, the library's extensive historic music collection was preserved in underground vaults.) According to Giazotto, only the bass figurations were notated. Many commentators have suggested that the piece is Giazotto's own composition but, recently, the existence of a bass line score (with the Dresden library's stamp) was confirmed. The haunting melody of this piece has taken on a life of its own, regardless of its provenance. Program notes by Lawrence Budmen
Vivaldi Motet RV626 – In furore iustissimae irae RV626
This is one of the motets for solo soprano that Vivaldi composed during one or other of his visits to Rome in the 1720s. Its text directly addresses God and Jesus and is sufficiently general in nature that it could be used for the majority of feasts.
In furore iustissimae irae has been called "a concerto for soprano," and, indeed, the work crackles with virtuosic intensity. The first aria opens with agitated string writing reminiscent of "Summer" from The Four Seasons. The soprano sings of God's divine wrath in the face of personal guilt. After a brief prayer for mercy, Vivaldi writes a remarkable aria addressed directly to Jesus. The principal music of this intimate, heart-rending aria does not use bass instruments. The violins, viola, and soprano delicately intertwine like rising incense. The final "Alleluia" is a tour de force for soprano that closes the motet in awe of God's power and the singer's prowess.

In furore iustissimae irae Tu divinitus facis potentem.
Quando Potes me reum punier, ipsum crimen te gerit clementem

In wrath and most just anger you divinely exercise power
When you punish me in my guilt the crime itself bears you in my mercy

| | |
| --- | --- |
| Miserationum Pater piissime, parce mihi dolenti peccatori languenti, o Jesu dulcissime. | |

Most loyal father of mercies, spare me, a sorrowful and weak sinner, most sweet Jesus

| | |
| --- | --- |
| Tunc meus fletus evadet laetus dum pro te meum languescit cor. | |

Then shall my weeping turn to joy as my heart is softened towards you

| | |
| --- | --- |
| Fac me plorare, mi Jesu care, et fletus laetus fovebit cor. | |

Make me cry my dear Jesus, and joyful weeping will warm my heart
alleluia
alleluia

Berio – Folk Songs – "Loosin Yelav" – Moon Has Risen
Folk Songs dates mainly from 1964 and Berio's residency at Mills College. It was created specifically for the composer's then-wife, mezzo-soprano Cathy Berberian. Berio described his connection to folk music as follows: "My links with folk music are often of an emotional character. When I work with that music I am always caught by the thrill of discovery… I return again and again to folk music because I try to establish contact between that and my own ideas about music. I have a utopian dream, though I know it cannot be realized". The third song, "Loosin yelav," in honor of Berberian's Armenian heritage, describes the rising of the moon over the top of a hill, "its red rosy face casting radiant light on the ground".
Loosin yelav ensareetz
Saree partzòr gadareetz
Shegleeg megleeg yeresov
Pòrvetz kedneen loosni dzov.
Jan a loosin Jan ko loosin
Jan ko gòlor sheg yereseen
Xavarn arten tchòkatzav
Oo el kedneen tchògatzav
Loosni loosov halatzvadz
Moot amberi metch mònadz.

The moon has risen over the hill,
over the top of the hill, its red rosy face
casting radiant light on the ground.
O dear moon with your dear light
and your dear, round, rosy face!
Before, the darkness lay
spread upon the earth;
moonlight has now chased it
into the dark clouds.
Hovanhess– Sextet for Recorder, String Quartet andHarpsichord
Alan Hovhaness (1911-2000) was born in Somerville, MA. His father was Armenian and his mother Scottish-American. As a child, he developed a strong interest in music, studying piano and writing music. When he was a student at Arlington High School, he attracted the attention of composer Roger Sessions. In 1932, Hovhaness won the Samuel Endicot prize at New England Conservatory for his composition, Sunset Symphony. Applying for a Guggenheim fellowship (1940), Hovhaness stated:
"I propose to create a heroic, monumental style of composition simple enough to inspire all people… There has been too much emphasis on small things while the great truths have been overlooked…. the worthiest creative art has been motivated consciously or unconsciously by the desire for the regeneration of mankind.
In the Sextet for Recorder, String Quartet and Harpsichord, Hovhaness presents scenes of Amenian life in four vignettes. The opening movement of a far-away caravan, across the openness of the landscape, is overtaken by ominous premonition. Next, a broad, reverential folk hymn is revealed, interwoven with the random pitter-patter of a herd of goats. The third movement is an estatic, lively dance. The initial peace and tranquility of the fourth movement fades away only to be consumed again in genocidal chaos. …by Jerry Bellows
Golijov – Lua Descolorida
Lua Descolorida is a poem by Lorca's beloved Rosalía de Castro written in Gallego (the language of the Galicia region in Spain) and defines despair in a way that is simultaneously tender and tragic.The musical setting is a constellation of clearly defined symbols that affirm contradictory things at the same time, becoming in the end a suspended question mark. The song is at once a slow-motion ride in a cosmic horse, an homage to Couperin's melismas in his Lessons of Tenebrae,and velvet bells coming from 3 different churches. – Osvaldo
Lúa descolorida
como cor de ouro pálido,
vesme i eu non quixera
me vises de tan alto.
Ó espaso que recorres,
lévame, caladiña, nun teu raio.Astro das almas orfas,
lúa descolorida,
eu ben sei que n'alumas
tristeza cal a miña.
Vai contalo ó teu dono,
e dille que me leve adonde habita.Mais non lle contes nada,
descolorida lúa,
pois nin neste nin noutros
mundos teréis fertuna.
Se sabe onde a morte
ten a morada escura,
dille que corpo e alma xuntamente
me leve adonde non recorden nunca,
nin no mundo en que estóu nin nas alturas.
Moon, colorless
like the color of pale gold:
You see me here and I wouldn't like you
to see me from the heights above.
Take me, silently, in your ray
to the space of your journey.Star of the orphan souls,
Moon, colorless:
I know that you don't illuminate
sadness as sad as mine.
Go and tell it to your master
and tell him to take me to his place.But don't tell him anything,
Moon, colorless,
because my fate won't change
here or in other worlds.
If you know where Death
has her dark mansion,
Tell her to take my body and soul together
To a place where I won't be remembered,
Neither in this world, nor in the heights above.
Golijov – How Slow the Wind
How Slow the Wind, a setting of two short Emily Dickinson poems, was Golijov's response to the death of his friend Mariel Stubrin. He writes, "I had in mind one of those seconds in life that is frozen in the memory, forever—a sudden death, a single instant in which life turns upside down, different from the experience of death after a long agony." Originally for voice and string quartet, the piece was commissioned by Close Encounters with Music and was first performed in their Seiji Ozawa Hall concert of May 5, 2001, by Dawn Upshaw, soprano; Toby Appel and Justine Chen, violins; Kenji Bunch, viola, and Yehuda Hanani, cello.
—Robert Kirzinger/Boston Symphony Orchestra
Telemann – Concerto in E minor for flute and recorder
Melissa Farrow, flutist with the Australian Brandenburg Orchestra writes:
"It was unusual to have both flute and recorder paired together as soloists in the 18th century, partly due to the different ways the instruments speak – the flute far less direct and 'bitey' than the recorder. Here Telemann finds a wonderful balance between the two playing harmoniously together in the opening Largo, weaving them in and out of the spotlight in the fugal Allegro, into a plaintive Largo in E major and ending with a feisty Presto, a Polish hanaque dance in rondo form.
"It is wonderfully moody music. It's interesting to read (Johann) Mattheson's explanation of the meanings of the tonalities chosen by Telemann for this work. The e minor tonality of the first 2 movements, according to Mattheson represents grief and deep thought, even in the fugal second movement it is quick, virtuosic for both flute and recorder but not cheerful . E major, the key of the third movement Largo expresses despair and amongst other things, helplessness. The wonderful final Presto, with its strong Polish influence returns to e minor. But Telemann, in his autobiography of 1718 writes ' …Now a Polish song makes the whole world dance, so I need no care to bring it to an end'."
KRASINSKI IN CONCERT

Biography
PETER EDWIN KRASINSKI is broadly recognized as a motivating consultant for the pipe organ community, and as a conductor, organist and music educator, whose imaginative and energetic performances elevate and inform audiences. Well respected in both secular and sacred genres of his field, he has taught the enchantment of music to both public and private institutions in the greater Boston area for many years. His silent film performances have been hailed in the press as "a great marriage of movie and music". "
Specializing in the art of live silent film accompaniment, worldwide, some of his many appearances have included such venues as Irvine Auditorium at University of Pennsylvania, Trinity Wall Street (NYC), Wanamaker's-Macy's Greek Hall (Philadelphia), St Joseph's Cathedral (Hartford), Old South Church (Boston), National City Christian Church (Washington, DC), St Joseph's Oratory (Montreal), The Kotzschmar Organ at City Hall (Portland), The Great Organ at Methuen Music Hall and major concert halls in the cities of Yokohama, Fukui, Miyazaki and Kanazawa, Japan.
A multiple prize-winner, he is the recipient of the First Prize in Improvisation from the American Guild of Organists National Competition. A seasoned performer, he has played recitals at the Cathedral of Our Lady of the Angels (Los Angeles), Notre-Dame Cathedral (Paris), Trinity Church (Boston), and Holy Name Cathedral (Chicago).
Mr. Krasinski has served as Dean of the Boston Chapter AGO, and is currently Organist of First Church of Christ, Scientist in Providence RI, accompanist at Beth El Temple Center Belmont MA, faculty member of St Paul's Choir School, Cambridge MA and regularly teaches improvisation master-classes to the Harvard Organ Society. He holds both a Bachelor of Music Degree in Music Education and Organ Performance, and the Master of Sacred Music Degree from Boston University.
For bookings, upcoming performances and more information please visit -WWW.KRASINSKI.ORG
The History of Silent Films
A silent film is a film with no synchronized recorded sound (and in particular, no spoken dialogue). In silent films for entertainment, dialogue is conveyed by the use of muted gestures and mime in conjunction with title cards, written indications of the plot and key dialogue lines. The idea of combining motion pictures with recorded sound is nearly as old as film itself, but because of the technical challenges involved, the introduction of synchronized dialogue became practical only in the late 1920s with the perfection of the Audion amplifier tube and the advent of the Vitaphone system. During the silent-film era that existed from the mid-1890s to the late 1920s, a pianist, theater organist—or even, in large cities, a small orchestra—would often play music to accompany the films. Pianists and organists would play either from sheet music, or improvisation.
The term silent film is a retronym—a term created to retroactively distinguish something. Early sound films, starting with The Jazz Singer in 1927, were variously referred to as the "talkies", "sound films", or "talking pictures". Within a decade, the widespread production of silent films for popular entertainment had ceased, and the industry had moved fully into the sound era, in which movies were accompanied by synchronized sound recordings of spoken dialogue, music and sound effects.
The vast majority of the silent films produced in the late 19th and early 20th centuries are considered lost. According to a September 2013 report published by the United States Library of Congress, some 70 per cent of American silent feature films fall into this category. There are numerous reasons for this number being so high; most were destroyed on purpose, but many others have been lost unintentionally. Out of a desire to free up storage space, film studios would often destroy silent films decades after their theatrical runs, perceiving them to have lost their cultural relevance and economic value. Due to the fragile nature of the nitrate film stock on which many silent films were recorded, many have deteriorated or have been lost in accidents such as fires (because nitrate is highly flammable and can spontaneously combust when stored improperly). Many such films not completely destroyed survive only partially, or in badly damaged prints. Some lost films, such as London After Midnight (1927), have been the subject of considerable interest by film collectors and historians.
Live Music Accompanies Silent Films
Showings of silent films almost always featured live music, starting with the guitarist, at the first public projection of movies by the Lumière brothers on December 28, 1895, in Paris. This was furthered in 1896 by the first motion-picture exhibition in the United States at Koster and Bial's Music Hall in New York City. At this event, Edison set the precedent that all exhibitions should be accompanied by an orchestra. From the beginning, music was recognized as essential, contributing "atmosphere", and giving the audience vital emotional cues. (Musicians sometimes played on film sets during shooting for similar reasons.) However, depending on the size of the exhibition site, musical accompaniment could drastically change in scale. Small town and neighborhood movie theatres usually had a pianist. Beginning in the mid-1910s, large city theaters tended to have organists or ensembles of musicians. Massive theater organs, which were designed to fill a gap between a simple piano soloist and a larger orchestra, had a wide range of special effects. Theatrical organs such as the famous "Mighty Wurlitzer" could simulate some orchestral sounds along with a number of percussion effects such as bass drums and cymbals, and sound effects ranging from "train and boat whistles [to] car horns and bird whistles; … some could even simulate pistol shots, ringing phones, the sound of surf, horses' hooves, smashing pottery, [and] thunder and rain".
Musical scores for early silent films were either improvised or compiled of classical or theatrical repertory music. Once full features became commonplace, however, music was compiled from photoplay music by the pianist, organist, orchestra conductor or the movie studio itself, which included a cue sheet with the film. These sheets were often lengthy, with detailed notes about effects and moods to watch for. Starting with the mostly original score composed by Joseph Carl Breil for D. W. Griffith's groundbreaking epic The Birth of a Nation (1915), it became relatively common for the biggest-budgeted films to arrive at the exhibiting theater with original, specially composed scores. However, the first designated full-blown scores had in fact been composed in 1908, by Camille Saint-Saëns for The Assassination of the Duke of Guise, and by Mikhail Ippolitov-Ivanov for Stenka Razin.
When organists or pianists used sheet music, they still might have added improvisational flourishes to heighten the drama on screen. Even when special effects were not indicated in the score, if an organist was playing a theater organ capable of an unusual sound effect such as "galloping horses", it would be used during scenes of dramatic horseback chases. In today's accompaniment, Mr Krasinski has created his own original score, improvised in the moment (while watching a small TV monitor on the console).
At the height of the silent era, movies were the single largest source of employment for instrumental musicians, at least in the United States. However, the introduction of talkies coupled with the roughly simultaneous onset of the Great Depression was devastating to many musicians.
Coney Island – Synopsis
Fatty has been dragged along to Coney Island by his wife who insists they spend their time together on the beach. Getting inspiration from a dog digging a hole in the sand, Fatty ditches his wife by burying himself in the sand then making a run for the amusement park as she searches for him. Fatty's wife enlists the help of an old friend (Al St. John, referred to as "Old Friend") who enters the park to look for Fatty, however once inside he notices an attractive young lady (Alice Mann, referred to as "Pretty Girl") who is there on a date with a young man (Buster Keaton, referred to as "Rival") and promptly woos her into entering the park with him rather than Rival, leaving the latter distraught.
Finding he has no money, Rival gains entry to the park by hiding in a barrel and follows Pretty Girl and Old Friend around the park. Once inside, Rival and Old Friend both attempt to impress Pretty Girl, Rival by trying to win on the high striker and Old Friend by buying her ice cream but Pretty Girl is ultimately unimpressed by both men's childish behavior
Fatty shows up on the scene and is likewise smitten with Pretty Girl and begins making polite conversation with her. When Old Friend returns with the ice cream, Fatty pretends he got them for her in order to impress her which it does. Old Friend furiously threatens Fatty, but Fatty kicks a nearby policemen in the rear and makes him think Old Friend did it leading to the latter being arrested.
Fatty and Pretty Girl next go for a ride on the log flumes but the force of the impact upon hitting the water sends both flying into the surrounding pool. Rival saves Pretty Girl and Fatty but is immediately knocked accidentally into the pool by Fatty who, seeing that Rival can swim and will not drown, once again walks off with Pretty Girl. Spotting his wife looking for him, Fatty takes Pretty Girl into a nearby boathouse and the two dress up (Fatty as a woman and Pretty Girl in a new dress and a long wig) to avoid detection before heading to the beach.
Arbuckle's wife has heard that Old Friend has been arrested and bails him out of jail and the two go to the beach to come up with a new plan where they bump into Fatty and Pretty Girl in their disguises. Old Friend finds himself attracted to Fatty dressed up as a woman and flirts with him before Rival arrives on the scene and reveals that the woman is in fact Fatty. Furious, Old Friend chases Fatty to the sea where they begin to fight. Pretty Girl, realizing that Old Friend is a sleazy womanizer and Fatty has a wife, decides to return to Rival and the two run off down the beach together. Fatty's wife calls the police to break up the fight and three police officers (The Keystone Cops) arrive at the beach to arrest both men. They are taken to jail but before they can be locked up they overpower all of the cops and throw them in the jail cell. Before Fatty can leave he receives a furious dressing down from his wife until he can take no more and throws her in the jail cell as well.
In the film's closing moments Fatty and Old Friend stand on the police steps and agree that the pursuit of women was the reason for all of their misfortune today and both swear off women for good. However, just after making this pact two attractive women walk past them and the two gleefully give chase.
Tuesday Aug 14 – Pictures in Sound: Liana Paniyeva in concert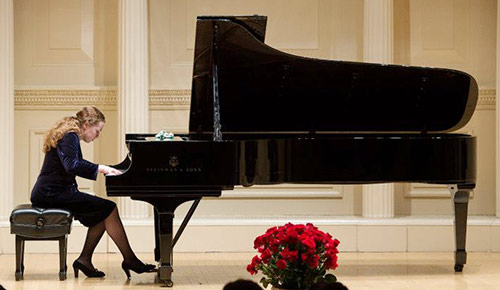 Biography
Award-winning Ukrainian pianist Liana Paniyeva currently resides in Boston. Ms. Paniyeva has performed at international festivals in Norway, Hungary, Syria, Italy, and Israel. During the 2012-2013 season, she performed three times at Carnegie Hall in New York City. Most recently, Liana played in concert halls of Scotland, South Africa, and in multiple states of the USA. Her solo recital in 2016 at the Myra Hess Concert Series in Chicago was broadcast live on WFMT Radio. In 2002 Liana is winning prizes in the international piano competitions in Ukraine, she earned Third Prize at the International Competitions in Memory of E. Gilels, First Prize at the International Competition in Memory of Prokofiev, and Second Prize at the International Competition in Memory of A. Karamanov. In 2008, Liana continued winning competitions: she won First Prize in the "Music World" International Competition in Italy. In 2008 in Israel Ms. Paniyeva won a prize in memory of Bracha Eden for a most impressive performance during the competition "The Voice of Music" Jerusalem. In the United States in 2012, Ms. Paniyeva was the winner of the American Protégé International Competition of Romantic Music; recipient of the Grand Prize at the Metropolitan International Piano Competition; and the winner of the AFAF Golden Era of Romantic Music International Competition. In 2013-2015, Ms. Paniyeva was awarded the E.B. Storrs Piano Scholarship from the Musical Club of Hartford. Ms. Paniyeva was also awarded the Cargill Foundation Prize in the 2014 Scottish International Piano Competition in Glasgow, and became a prizewinner at the Iowa International Piano Competition in 2015.
Liana graduated from the Donetsk Music Academy in Ukraine, and went on to earn her Professional Studies Certificate from the Manhattan School of Music in 2011. Her career continues with recitals in Hungary, Israel, Ukraine, USA, England, Syria, Canada, South Africa and Norway. Most recently, Ms. Paniyeva finished her Artist Diploma at The Hartt School of the University of Hartford. In the March of 2017 Ms. Paniyeva was accepted with a full tuition scholarship to the Manhattan School of Music to study with Olga Kern, however in the June the admission office was unable to provide that scholarship. Currently Ms Paniyeva resides in Boston.
Tonight's Program Details
Corelli Variation op 42 Rachmaninoff
Theme. Andante
Variation 1. Poco piu mosso
Variation 2. L'istesso tempo
Variation 3. Tempo di Minuetto
Variation 4. Andante
Variation 5. Allegro (ma non tanto)
Variation 6. L'istesso tempo
Variation 7. Vivace
Variation 8. Adagio misterioso
Variation 9. Un poco piu mosso
Variation 10. Allegro scherzando
Variation 11. Allegro vivace
Variation 12. L'istesso tempo
Variation 13. Agitato
Intermezzo
Variation 14. Andante (come prima)
Variation 15. L'istesso tempo
Variation 16. Allegro vivace
Variation 17. Meno mosso
Variation 18. Allegro con brio
Variation 19. Piu mosso. Agitato
Variation 20. Piu mosso
Coda. Andante
Musical Moments Op 16 Rachmaninoff
1 – Andantino
2 – Allegro
Sonata Tragica Op 39 No 5 Nikolai Medtner (1880-1951)
Pictures at an Exhibition Mussorgsky
Promenade(1st)
No. 1 "The Gnome"
Promenade (2nd)
No. 2 "The Old Castle"
Promenade (3rd)
No. 3 "Tuileries (Children's Quarrel after Games)"
No. 4 "Cattle"
Promenade (4th)
No. 5 "Ballet of Unhatched Chicks"
No. 6 "Samuel Goldenberg and Schmuÿle"
No. 7 "Limoges. The Market (The Great News)"
No. 8 "Catacombs (Roman Tomb)"
No. 9 "The Hut on Hen's Legs (Baba Yaga)"
No. 10 "The Bogatyr Gates (In the Capital in Kiev)"
Program Notes
Mussorgsky – Pictures at an Exhibition
Victor Hartmann, a Russian painter and architect, was one of Mussorgsky's close friends. When Hartmann died in St. Petersburg in 1873 at the age of 41, the composer was crushed. He wrote to the art critic Vladimir Stasov, paraphrasing Shakespeare: "Why should a dog, a horse, a rat have life, and the Hartmanns perish?" In January 1874, the Russian Academy of Arts organized an exhibition of Hartmann's work. Mussorgsky attended the show, where he saw the varied images that became the basis for Pictures of an Exhibition. On June 2, Mussorgsky began work on Pictures, a musical impression of ten of Hartmann's paintings (plus five "promenades") for piano, and finished the work later in the same month. Many are most familiar with Ravel's orchestration, however we hear the original composition tonight, with all its fiery pyrotechnics on the piano keyboard.
Pictures opens with a "Promenade" in 5/4 that serves as a unifying device throughout; it is a portrayal of the composer himself walking from one painting to the next. The first picture is "Gnomus," inspired by a design for a toy nutcracker that Hartmann drew in 1869. Another promenade is followed by "The Old Castle," a mysterious, lonely evocation built on pedal tones. "Tuileries" is inspired by a watercolor of children at play in the garden of the Tuileries. This bright and impressionistic piece is followed by the heavy tread of "Bydlo" (a Polish oxcart). Mussorgsky's setting of "Ballet of the Unhatched Chicks" is a wildly imaginative scherzo. A stern melody in a Jewish-music-derived scale opens "Samuel Goldenberg and Schmuyle," in which a wealthy Jew is portrayed by an insistent repeating figure in the treble, a poor Jew in the bass. The rapid patter of haggling housewives characterizes "The Market Place in Limoges." In another sudden change in mood, "Catacombs," which pictures Hartmann himself touring a vast catacomb of skulls, is rendered in naked chord progressions. "The Hut on Fowl's Legs (Baba-Yaga)" was inspired by Hartmann's design for a fourteenth century-style clock in the shape of a witch's hat. Mussorgsky transforms it into a miniature tone poem about Baba Yaga, the legendary Russian witch who devoured the souls of children. After a grand flourish, the work ends with "The Great Gate of Kiev," inspired by a never-implemented design Hartmann submitted to an architecture competition. Pictures at an Exhibition comes to a close with rich, booming chords which evoke bells.
Although Mussorgsky is known to have played Pictures in recital, the work did not appear in print until 1886, five years after the composer's death. It remained relatively little known until Ravel made a colorful orchestration of it in 1922, and in this form it has enjoyed even greater popularity than the original.
Wednesday Aug 15 noon – Young Artist Showcase – Wesley Hall – Sounds Throughout the Centuries

Biography
Recognized in 2016 by the Diapason Magazine as a "20 Under 30" leader in Organ, Harpsichord, and Sacred Music in the United States, Wesley Hall is a dynamic organist and early music enthusiast with a passion for translating the music of the past into the context of today's audience. An innovator in the field of sacred music, Wesley blended his passion for music and liturgy at the Yale School of Music and Institute of Sacred Music, and went on to receive an Artist Diploma in Organ Performance from the Oberlin Conservatory. As both a solo artist and a collaborator, his performances have been heard across the United States, Canada, and Europe. He was recently awarded 2nd Prize at the Sursa American Organ Competition and maintains an active performance schedule. Wesley is passionate about helping young musicians achieve their greatest aspirations, and serves regularly as a competition juror, and teaches students through private lessons and public masterclasses. He is presently the Minister of Music and the Arts at the First Baptist Church of Worcester.
Wednesday Aug 15 7PM Maria Ferrante, soprano; Brett Maguire, piano
– Song & Sunset

Biographies
Soprano Maria Ferrante maintains a full schedule of performances on both the local and international stage. Her name has become familiar to audiences world over. A winner of the Mario Lanza Voice Competition, she has been acclaimed by the Washington Post and the Boston Phoenix. Richard Dyer of The Boston Globe has called her "a true singing actress… Maria Ferrante broke my heart last night." Maria's performances have delighted audiences from New York to the Virgin Islands, Prague, Japan, Geneva and London as well as in local venues such as Jordan Hall and Sanders Theater. Some of her many operatic roles include Cio-Cio-San ('Madama Butterfly'), Desdemona ('Otello'), Liu ('Turandot'), Violetta ('La Traviata'), Despina ('Cosi Fan Tutte'), Pamina ('Die Zauberflöte'), and Gretel ('Hänsel und Gretel').
Maria appeared live on WGBH-TV as Sacerdotessa in Verdi's Aida. She was invited to commemorate The Goethe Institute of Boston's 250th Gala Celebration with Xavier de Maistre, solo harpist with the Vienna Philharmonic.
Ms. Ferrante has recorded for Naxos, Albany, Navona Records and AFKA labels and also has four solo CDs to her credit, including Christmas in Worcester, Best Kept Secrets and Sea Tides and Time, which received rave review from the Boston Herald: [Ms. Ferrante] known for her lilting soprano voice and probing mind…brings a supple and colorful approach to a broad variety of repertoire." The Boston Globe said: "Superb".
Maria opened the 2013 season of the Newport Music Festival. He has appeared on Swiss TV with The TEDx talks at CERN, and sang with Max Hobart performing Mahler's Fourth Symphony at Jordan Hall. She has also performed with the Newton Choral Society singing Haydn's St. Nikolai Mass & Mozart's Vesperae de Domenica as well as Golijov's How Slow the Wind & Lúa Descolorida and Dvorak's Rusalka's Aria with the Worcester Chamber Music Society. Maria appeared with The Cape Cod Symphony, in recital at Merkin Hall (NYC) and at The Historical Piano Concerts from the Frederick Piano Collection. From 2012 – 2018 she has been seen live worldwide on YouTube from Sanders Theatre with fabulously wonderful The IG-Nobel Prize Award Ceremony at Harvard University.
She is a vivid and active recitalist, working locally with numerous ensembles both in Massachusetts and nationally. For example, she has performed locally with The Mohawk Trial Concerts, the Boston Ballet, The Nantucket Arts Council, and The New England String Ensemble. On a national level, she has appeared with The Ensemble for the Romantic Century (NYC), The Charleston Orchestra, The Delaware Symphony Orchestra, The Enid Symphony Orchestra (Oklahoma), The Florida Northwest Symphony, The Concert Society Chamber Orchestra (Connecticut), Great Waters Music Festival, Wolfeboro, NH, The Shakespeare Concerts (Boston/Prague), Concert Recitals in Apalachicola and The National Museum of Women in The Arts (Washington DC). This season she is soloist with Batraxoi in the requiem, "Weep with Those Who Weep", in Mason NH, at Mechanics Hall Children's Concerts, and will perform Ernest Chausson's "Poeme de L'amour et de la Mer" at Mechanics Hall with the Worcester Shubertiade.
Ferrante's extraordinary voice was not discovered until she sang in a voice class at Temple University. "The professor asked if anyone in the class knew how to sing Schumann's song cycle, 'Dichterliebe,'?" She remembers, "No one in class would sing it. I said I knew it and sang one of the songs, 'Ich Grolle Nicht'. When I finished, the room was quiet. And then everyone said 'You should sing!'" She took the suggestion seriously and began studying voice with one of the great tenors of the century – Franco Corelli – and his wife, Loretta Corelli. Later she studied with such noted teachers in Boston as Phyllis Curtin, Sharon Daniels. And by special invitation, she received lessons from the renowned soprano, Elly Ameling. She later continued her studies in Beijing to discover aspects of bel canto from master, Jiang Jou.
An engaging, enthusiastic teacher and coach, Maria has taught Vocal Master Classes throughout and New England and New York and offers unique and personalized strategies for her students.
More details >>> MariaFerrante.com
Winner of the First Prize and the Prize of the Audience in the 2005 André Marchal International Organ Competition in France, Brett Maguire held the position of Organ Scholar at The College of the Holy Cross in Worcester where he earned a Bachelor's degree in 2002. While still an undergraduate, he was awarded First Prize in the 2001 American Guild of Organists/Quinby Regional Competition for Young Organists which earned him the honor of performing in recital at the 2002 AGO National Convention in Philadelphia. Subsequently, he has performed widely in the United States and in Europe. Brett was the recipient of a Thomas J. Watson fellowship for organ study in Paris during which he presented recitals at Notre Dame Cathedral and at the Church of St. Clothilde. He received his Master of Music degree in Historical Performance from Oberlin College Conservatory of Music in 2005. Brett has performed with the Boston Pops under John Williams, with the Boston Symphony Orchestra under Hans Graf, and with the Tanglewood Summer Festival Orchestra under Bernard Haitink. An active and experienced church musician, Brett served for ten years as Director of Music at Wesley United Methodist Church in Worcester. He is presently the Assistant Director of The Worcester Chorus and is on the faculty of Assumption College. In addition to his musical endeavors, Brett is an avid rock climber, practices Ashtanga yoga daily, and is a vociferous reader of books.
Translations
Merry-Go-Round ~Paul Verlaine
Turn, turn, fine wooden horses,
turn a hundred turns, turn a thousand turns,
turn often and go on always,
turn, turn to the sound of the oboes.
The all red-faced child and the mother quite white,
the boy in black and the girl in pink,
the one pursuing and the other posing,
each one spending his Sunday penny.
Turn, turn, horses of their hearts,
while all around your turning
squints the sly eye of the pickpocket
turn to the sound of the victorious cornet.
It is astonishing how it intoxicates you
to go around this way in this foolish circle,
nothing in your tummy and an ache in your head,
not feeling well and heaps of fun.
Turn, wooden horses, with no need
ever to use spurs to command
you to gallop around,
turn, turn, with no hope of hay.
And hurry, horses of their souls
Already hear the supper bell,
the night that is falling and chasing the troop
of merry drinkers, famished by their thirst.
Turn, turn! The velvet sky
is slowly dressed with golden stars.
The church bell tolls a mournful toll.
Turn, to the merry beating of drums.
Exquisite Hour ~Paul Verlaine Oh Cease Thy Singing
The white moon shines in the woods
From each branch comes a voice
From beneath the bough
Oh, beloved!
The pond is reflecting deeply mirrored
Silhouette of the black willow tree
Where the wind weeps
Let us dream! 'tis the hour!
A vast and tender appeasement
Made iridescent with the light of the moon,
Seems to descend from the heavens.
It is the exquisite hour!
Open Your Heart ~ Louis Delâtre
The daisy has closed its flower-crown
And shadows have closed the eyes of the day.
My beauty, will you keep your word to me?
Open your heart to my love.
Open your heart, oh my angel to my passion,
So that a dream may enchant your dreams.
I wish to recover my soul,
As a flower opens to the sun!
The Cradels ~ Sully Prudhomme
Along the quay, the great ships
Rocked silently by the great surge,
Take no notice of the cradles,
Which, the women rock.
But the day of farewells will come.
The women are bound to weep
And curious men seek the horizons, which entice them!
And on the day the great ships,
Leaving the port, which recedes in the distance
Shall feel their mass held-back
By the soul of the distant cradles.
Oh Cease Thy Singing
~ Alexander Pushkin
Refrain from singing, lovely one, in my presence
Your melodies of sorrowful Georgia
Remind me of another life and another distant shore
Your song reminds me of the Steppes, the night and the moonlight
And the features of a maiden, sad and far away!
I Forgot the distant sweet apparition but
Having seen you and you sing
It reminds me and I see it anew.
Do Not sing to me, my dear,
The songs of Georgia
They remind me of another life
And of distant shores.
It is Peaceful Here ~ G. Galina Die Forelle
It is fine here,
Se from far away the river is aflame
The meadows are sprinkled with a flowery carpet
The clouds are white
No one is here
Here, there is silence
Here are God and I alone
Flowers and the old pine tree
And you, my dream.
The Trout ~ Christian Friedrich Schubart
In a clear brooklet, in happy haste,
A happy trout shot past like an arrow,
I stand on the bank and watch in sweet repose,
The happy little fish bath in the clear brooklet
A fisherman with his rod stood on the bank, oh boy!
And saw with cold blood how the fish swam.
As long as the water stays clear,
I thought with silent wish,
He will not catch this fish!
But finally the time was too long for the thief,
He muddied-up the brook and before I knew,
His rod was jerking and
The little fish flapped at the end of it,
And I with my blood boiling,
Looked upon the deceived one!
The Erlking ~ Johann von Goethe
Who rides so late through night and wind?
It is the father with his child;
He has the child well in his arms
He grasps him securely. He holds him warm.
"My son, why do you so fearfully hide your face?"
"Do you not see, father, The ErlKing?
The Earl-king, with crown and train?"
"My son, it is a cloud-mist."
"You lovely child, come go with me!
Very beautiful games I will play with you;
Many beautiful flowers are on the shore,
My mother has many golden garments."
My father, my father do you not hear what the Erlking softly promises?"
"Be calm, remain calm, my child;
In the rough leaves rustles the wind."
"Fine boy, will you come with me? My daughters will
give you anything you desire; my daughters
lead the nocturnal dance, and will rock and dance and
sing you to sleep."
"My father, don't you se the Erlking's daughters
on the dark place over there?"
"My son, my son, I see it exactly:
there shines the old grey willow tree."
Erlking says; "I love you, your form allures me and if you
do not come willingly, I will take you by force!"
"My father, he is now taking me – Erlking had hurt me-!"
The father is horrified, he rides like the wind,
He holds in his arms the agonizing child.
He reaches the courtyard with effort and distress;
In his arms the child
Is dead.
Beloved Beauty
Late autumn fog and cold dreams
Cove the mountains and valley;
A storm has robbed the trees of their leaves,
And they look spectral and bare.
Only one solidary tree stands full
Wet from nostalgic tears, it seems,
Nodding its green head.
Ah, my heart is like a wilderness
And that tree that I see there
Summer-green, that is your image
Beloved, beautiful one.
It once happened that the nightingale
Sang the whole night through;
From its sweet note
Echoing and re-echoing
The roses have sprung forth.
She was once a madcap
And now she walks deep in thought,
Holding her sunhat in her hand
And quietly endures the sun's glow
And knows not what to begin.
It so happens…
The Nightingale
It once happened that the nightingale
Has sung the whole night through;
From its sweet note
Echoing and re-echoing
The roses have sprung forth.
She was once a madcap
And now she walks deep in thought,
Holding her sunhat in her hand
And quietly endures the sun's glow
And knows not what to begin.
It so happens…
Intermission
One Fine Day ~ Luigi Illica, Giuseppe Giacosa
One good day, we will see
A rising a strand of smoke
Over the far horizon on the sea
And then the ship appears
And then the ship is white
It enters into the port, it rumbles its salute.
See it? He is coming!
I don't go down to meet him, not I.
I stay upon the edge of the hill
And I wait a long time
but I do not grow weary of the long wait.
And leaving from the crowded city,
A man, a little speck
Climbing the hill.
Who is it? Who is it?
And as he arrives
What will he say? What will he say?
He will call Butterfly from the distance
I without answering
Stay hidden
A little to tease him,
A little as to not die.
At the first meeting,
And then a little troubled
He will call, he will call
"Little one, dear wife
Blossom of verbena"
The names he called me at his last coming.
All this will happen,
I promise you this
Hold your fears –
I with secure faith will wait for him.
O mio Babbino Caro ~ Giovacchino Forzano
Oh, my dear daddy,
He is so beautiful and handsome
I want to go to the Porta Rosa and
Buy a wedding ring!
Oh yes, yes, I really want to go there!
And if I love him in vain
I will go to the old bridge
And throw myself into the river Arno!
I am struggling and tormented
Oh God1 I want to die!
Dad, have pity on me!!
In some Youkali!
Youkali ~ Roger Ferney
Almost at the end of the world
My vagabond world.
Errantly drifting at the discretion of the waves,
It brought me here one day.
The Island is tiny,
But the fairy that lives there
Gently invites us
To take a tour
Youkali, it is the land of our desires
Youkali, it is happiness, it is pleasure
Youkali, the land where you quit all your troubles
It is as in the night a lightning bolt
and the star that we follow
That is Youkali!
Youkali, it is respect for all exchanged vows
Youkali, it is the country of beautiful shared loves
It is hope at the heart of all humans
The deliverance we all wait for tomorrow.
And Life carries us along day by day
The poor human soul, which seeks deliverance everywhere-
Has, in order to escape the world,
Managed find the mystery
In which our dreams bury themselves
If I only knew the way back
The dear path to the land of childhood!
If I Only Knew ~ Klaus Groth
If I only knew the way back,
The dear path to childhood.
Oh, Why did I have to seek after fortune?
And let go of childhood's hand?
Oh, how I long to fully rest
And to be awakened by no striving.
Tired eyes closed by love gently covered.
And nothing to seek and nothing to look for,
Only to dream lightly and gently:
Not to see changing times,
To be a child again.
Show me the dear path,
The path back to childhood,
In vain I seek fortune where
All around is an empty shore.